Wet Your Whistle is a series of blog posts on happy hours, drink specials, and bar and pub specialty drinks and what have you.  This is a running series of posts that will be posted in mornings suggesting places for you to relax in the evening (depending on the area we are currently covering).  
Craft brewing has become a lucrative business opportunity for small business entrepreneurs, and has become a social crave for beer aficionados and socialites alike.  With its unlimited recipes, unique blends, and inventive ingredients, craft brewing bars have popped up in small towns and big cities a like.  Some have grown into large breweries while others have enjoyed their niche and stay successful as a small business in their own community.  With this said, the Treasure Coast of Florida has its fair share of big named craft breweries and small town breweries that are wonderful spots to wet your whistle.
The first place we are going to look at happens to be our favorite local hang out.  Pareidolia Brewing Company  has a newer location in Sebastian at 712 Cleveland Street, but it has been around for several years.  Its owners, Pete and Lynn Anderson, have been brewing for some time and left his previous careers in the school district of Indian River county to become a full time craft brewery owners.  They have been a success not only in Sebastian, but throughout the brewing community across the state.
Pareidolia Brewing Company brews all types of beers including IPAs, Ales, and Porters.  Pareidolia has expanded his brewing capacity, so that it now offers more variety, as well as more quantity, which means there are more beers that can fill a patroon's growler.  They often offer around one new craft beer each week, and have a constant rotation of usual and special brews on tap.  On top of their own brews, they offer other craft breweries' beers on tap and in a can or bottle.
With its new location, Pareidolia has not only expanded its beer capacity, but it has also added onto its pub grub menu.  When you come into the bar, you can also order soft pretzels, paninis, flat breads, and a few other specialties including soups to compliment your craft brew.  For some reason, they stop selling the pizza pretzel, but their new flat breads are a treat.  My wife and I share a panini when we are hungry, and it usually hits the spot for both of use.  They also offer complimentary bar pretzels for everyone.
Besides the beer and food, Pareidolia offers a variety of entertainment.  They have an open mic night on Wednesday nights, a trivia night on Thursdays, and various nights with live music.  They have tap takeover nights where they have guest craft breweries come, and often showcase other local and Florida state beer nights.  They also have a "Runadolian Running Club".  You should most definitely join their email list because it gives you weekly updates of events, like bar-b-ques, new craft beers on tap, and even rewards for growler fills (1/2 a pint for two growler fills).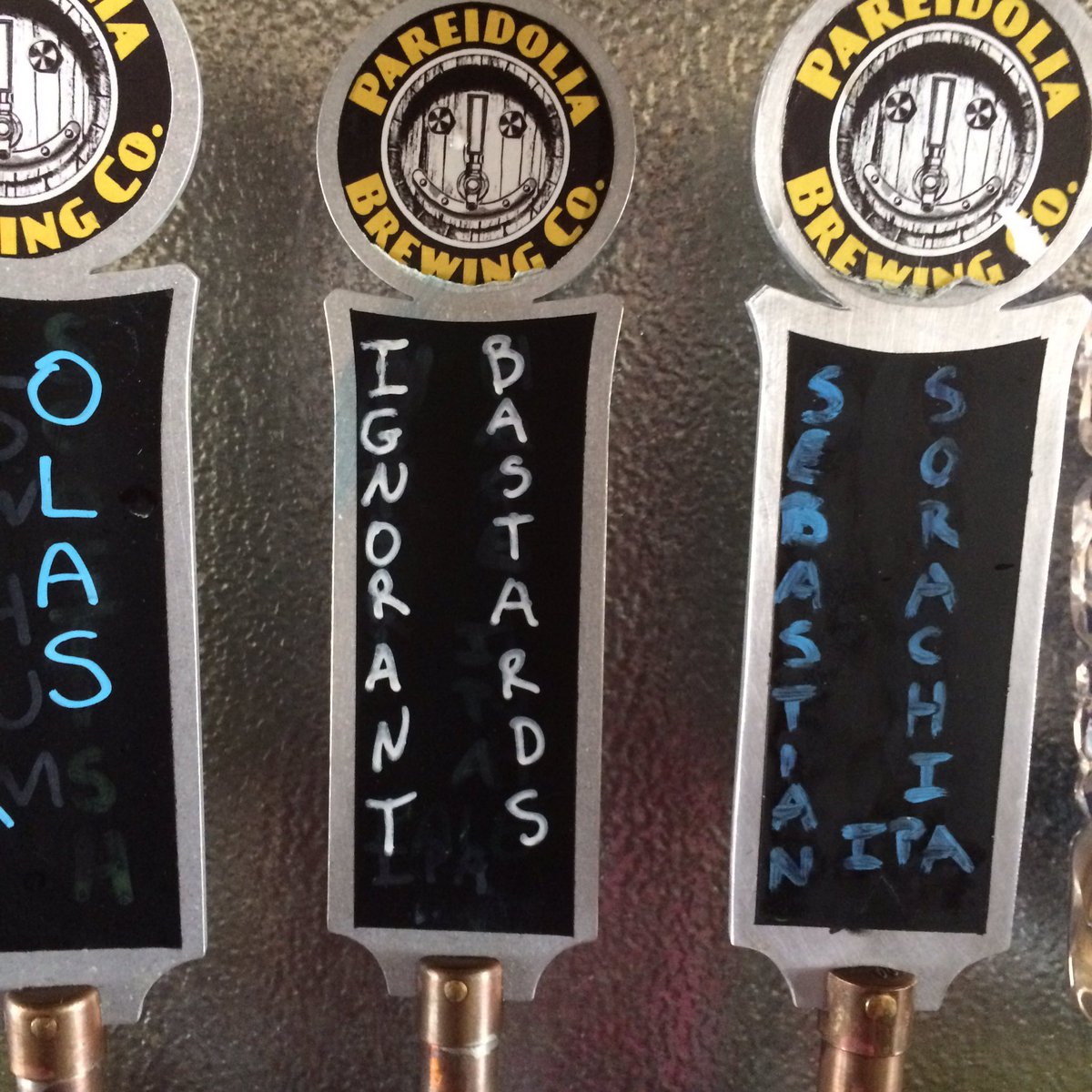 The atmosphere at Pareidolia's is relaxing; it can be a little crowded on certain nights, but they have plenty of seating, including a new patio with umbrellas and tables outside.  The decor upholds the brewery's namesake, and the art and other artifacts are aesthetically appeasing.  It is a clean establishment and is family friendly.  They have board games and other activities for everyone to enjoy.
Since its opening, it has been an addition to the brewing community sprawling throughout the Treasure Coast.  Pareidolia Brewing company has become a staple of Sebastian in just a few years.  With great brews, an inviting atmosphere, and friendly patrons, Pareidolias will be around for a long time.  Come on in and enjoy today….and remember, "Face it, beer is good."